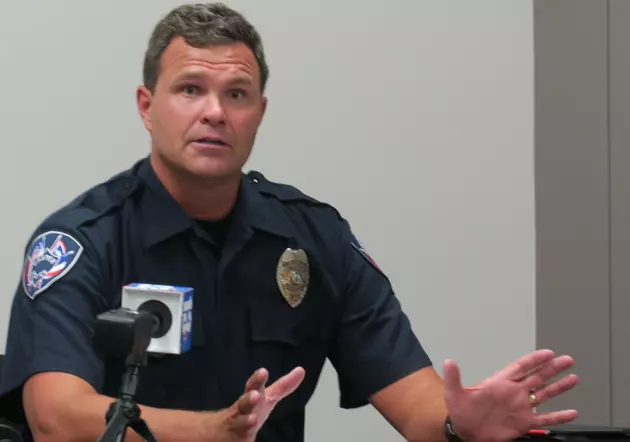 Casper, Natrona Responders Say They're Ready For Eclipse
Casper Police Detective John Hatcher.                                             Tom Morton, Townsquare Media
Casper will welcome tens of thousands of people -- from out of town, out of the state, out of the country -- for the total eclipse of the sun on Aug. 21 and the events preceding it.
The Casper Police Department and other agencies are ready for them, Detective John Hatcher said Thursday.
"These agencies have been working amongst each other for quite a while now," Casper Police Detective John Hatcher said during a news conference at the
Thursday, representatives of 13 state and local agencies and their respective vehicles -- helicopter, fire trucks, river boat, personal watercraft, patrol vehicles, ambulances, and the mobile Casper-Natrona Command Communications Center -- gathered at the Public Safety Communications Center, 441 Landmark Drive.
"We're prepared for this," Hatcher said.
"We tried to prepare for a mass (disaster) thing that could happen, the worst case scenario," he said. "Granted, there could be a curve ball. But we feel comfortable as the Casper Police Department and these other agencies feel comfortable that we're as ready as we can be for this eclipse and this influx of people that are coming into the city."
Besides the police department, other agencies there were the Natrona County Sheriff's Office, Casper Fire-EMS, Natrona County Fire, Evansville and Mills fire departments, Wyoming LifeFlight, Wyoming Medical Center, Wyoming Department of Transportation, Wyoming Game and Fish Department, Evansville and Mills Police departments, and the Department of Family Services.
While these agencies have worked together before, the eclipse with its immovable deadline and inevitable crowds has pushed them to concentrate in a way they never have before, said Audrey Gray, health preparedness program manager of the City of Casper-Natrona County Health Department.
Some agencies will have geographically broad responsibilities, such as the Game and Fish Department with its watercraft, will be at the lakes and on the river because it is responsible for law enforcement on waterways.
On the other hand, the mobile city-county communications center will be located downtown near many of the events preceding the eclipse and the day itself, said Lori Jackson of the Public Safety Communications Center.
"It's going to be a place where officers can come in, get something to drink, cool off," Jackson said. "We're going to be running radios out of here for the special events down here in that area."
The mobile center also will take some pressure off the dispatchers at the PSCC, she added.
Speaking of communications, Hatcher said people may find their cell phone service is stressed. "Sometimes you may dial and it says, 'no service available.'"
That's because 911 calls take precedence and override nonemergency communications, Hatcher said.
A lot of people will come to Natrona County and some will have emergencies, and he wants the dispatching service to work as smoothly as possible.
With the preparations in place, Hatcher said the eclipse is a once-in-a-lifetime event, a festival, and a cosmic science laboratory.
It's also about money and about making a good impression, he said.
"We need this right now for our tax dollars," he said. "Let's show these people the best time we can for three or four days, and who knows, they might even come back."