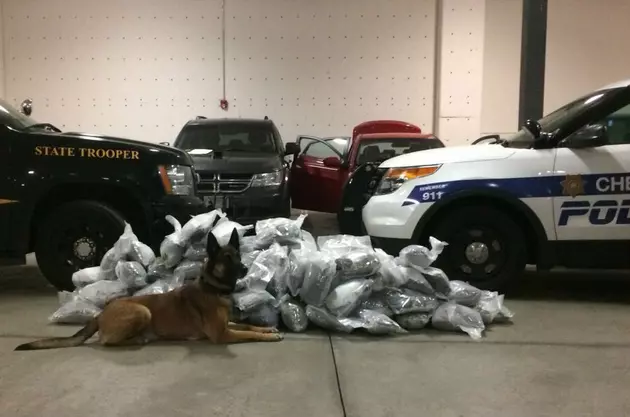 State, Cheyenne Agencies Seize 72 Pounds Of Pot
Wyoming Highway Patrol, Cheyenne Police Department
The Wyoming Highway Patrol and a Cheyenne Police Department K-9 team interdicted about 72 pounds of marijuana on Interstate 80 on Thursday, according to a news release from the Highway Patrol.
A trooper was monitoring a construction zone near mile post 365 on eastbound I-80 and stopped a sedan for speeding 54 mph in the posted 45 mph construction zone.
During the stop, the trooper found reasonable suspicion to ask for a drug-detection K-9 to respond.
No Highway Patrol K-9 teams were available, but a Cheyenne Police Department K-9 team was nearby and responded.
Cheyenne P.D. K-9 Kapo alerted to the vehicle establishing probable cause to search it.
Police Department, Highway Patrol and Wyoming Division of Criminal Investigation agents found the marijuana in the trunk area of the car.
Charles Hinton, 35, from Lithonia, Ga., was arrested and taken to the Laramie County Detention Center in Cheyenne. He was charged with felony possession of marijuana and felony possession of marijuana with intent to deliver.
The marijuana was from California and destined for Georgia, according to the press release.