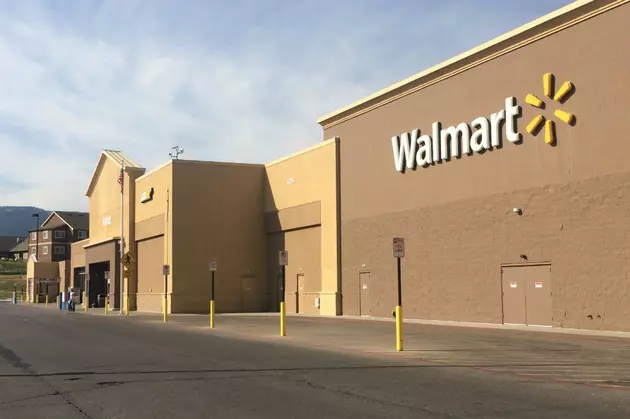 Wyoming Woman Sues for $10 Million After Alleged Injury at Casper Walmart
Nick Learned, Townsquare Media
A Sheridan woman is suing Walmart for $10 million dollars after allegedly becoming "totally and permanently disabled" while working inside the store on CY Avenue nearly four years ago.
Theresa Burfiend's attorney, Clay B. Jenkins of Sheridan, filed the suit March 17 in Natrona County District Court. Walmart's attorney, John A. Sundahl of the Cheyenne-based Sundahl, Powers, Kapp & Martin, LLC., requested the suit be dismissed in his April 20 answer to Burfiend's complaint.
Simultaneously, Walmart Stores, Inc. also filed a demand for the case to be heard by a 12-person jury.
According to the complaint, Burfiend was working as a truck driver for J.E. Williams Trucking on Aug. 23, 2013, when she backed her truck up to the loading dock of the Walmart store on CY Avenue in order to deliver pallets of fresh milk.
Since the first time Burfiend had delivered milk to the store on July 2, the built-in hydraulic loading docks were either broken or not used by the Walmart receiving crew.
Burfiend contends the docks were not made available to vendors such as herself. Instead, portable dock plates were used.
Burfiend unloaded all of her pallets into the store's cooler, then removed the shrink-wrapped pallets of empty milk crates and stored them in her truck. Burfiend then went to put the pallet jack back beneath a loaded pallet on the loading dock.
As she did so, Walmart employee Karen Green approached Burfiend and asked, "What are you doing?" Burfiend said she was returning the pallet jack, but Green allegedly took the pallet jack from Burfiend and said she would handle it, the complaint says.
The complaint alleges that Walmart's loading dock for perishable goods was also used as a storage area for pallets of durable goods, which created a crowded work environment.
Due to a "Walmart first" policy, vendors such as Burfiend were scheduled too tightly and were under extreme pressure to "hurry up and get out of the way," as the complaint claims Green had said previously, in order to make room for Walmart trucks. Burfiend's suit also alleges that an insufficient number of loading docks were available for non-Walmart vendors.
So, because the loading dock was so cluttered, Burfiend had leaned the portable loading dock plate to the left of the loading bay, against freight between the loading docks, "as she had always done," the complaint says. Burfiend then closed the trailer door and closed the Walmart loading dock door.
But, "Instead of safely stowing the pallet jack and portable dock plate, per [Walmart]'s usual operating procedure," the complaint says, Green "set them up" for the next vendor -- directly behind Burfiend, something which had allegedly never happened before.
Burfiend backed away from the loading dock door, tripped over the portable dock plate and fell backwards, landing first on the edge of the dock plate and then on the pallet jack which Green reportedly said she would put away.
The complaint says Burfiend suffered serious injuries to her lower back, tailbone, left hip and groin, pudendal nerve, ankle and wrist, as well as damage to her lower spine. The injuries allegedly made Burfiend "totally and permanently disabled," incurred at least $300,000 in medical bills, and cost Burfiend lost wages and earning potential.
Burfiend also allegedly suffered "pain, suffering, scarring, disfigurement and loss of enjoyment of life."
The complaint alleges Walmart was negligent in furnishing the store with a loading dock which was insufficient for the amount of traffic, failing to maintain the loading dock's hydraulic dock plates, engaging in the "Walmart-first" policy which put vendors in danger, using loading dock space to store durable goods rather than reserving it for its intended purpose, designing the store so that the receiving department had insufficient space and scheduling an overwhelming volume of vendors' trucks.
Walmart is also accused of failing to adopt a safe operating procedure for the storage of the portable dock plates, failing to adopt the safer and less-chaotic procedures used at the Sam's Club on Second Street, failing to adopt "any safe standard operating procedures whatever for the unloading of freight" at the store on CY Avenue and failing to properly train its employees -- including Karen Green.
Burfiend's complaint also points to "gross, willful and wanton" negligence on the part of Green, who is accused of creating a trip-and-fall hazard, failing to inform Burfiend of the hazard and creating a hostile work environment on the loading dock by insisting on the "Walmart first" policy, as well as telling Burfiend to, "hurry up and get out of the way."
The complaint asks for compensatory damages for Burfiend's economic and general injuries including "pain, suffering, loss of enjoyment of life, disfigurement, humiliation, etc..." as well as punitive damages "in a sum sufficient to punish [Walmart] and deter other similarly situated entities from similar conduct in the future."
Burfiend also wants Walmart to adopt a verifiable safety program for the loading dock.
Jenkins, on Burfiend's behalf, says Social Security declared Burfiend totally disabled. He says local physicians have been unable to cure, or perhaps diagnose, Burfiend, and she will soon be evaluated at the Mayo Clinic.
At trial, Jenkins plans to call "the usual medical witnesses," an economist and a professional truck driver from Montana. That truck driver, Jenkins says in a pretrial memorandum, will testify to the state of the automatic loading dock, as well as the fact that the automatic loading dock was disabled at the time of the accident and remained disabled for at least a year afterward.
The truck driver will also testify that the "CY avenue loading dock was the most crowded, chaotic and unsafe loading dock he had ever encountered," according to Jenkins' memorandum.
In its answer to the complaint, Walmart denies that Green was a Walmart employee at the time of the incident. The company also denies Burfiend's claim that the hydraulic loading docks were not in use and were not available to vendors such as Burfiend. As such, Walmart denies that portable dock plates had to be used instead.
Walmart does not contest the existence of its "Walmart-first" policy on the loading dock, but says Burfiend and her employer were solely responsible for safely making the delivery. The company denies Burfiend's claim that its employees "would have nothing to do with vendors like [Burfiend]."
The company similarly denies allegations that the loading dock was used to store durable goods and that scheduling put vendors under "tremendous pressure" to "hurry up and get out of the way." It also refutes Burfiend's story of Green taking the pallet jack as Burfiend tried to put it away, as well as Burfiend's account of leaning the portable loading dock plate against freight between the loading docks.
Furthermore, Walmart denies Burfiend's claim that Green set the pallet jack and portable dock plate up directly behind Burfiend instead of safely stowing them. The company also says Burfiend was warned to pay attention to what was behind her.
"[Walmart] admits that [Burfiend], in disregard of the warning and without looking where she was moving, and by failing to maintain a proper lookout for her own safety, tripped and fell," the company's response reads.
Walmart also claims that Burfiend, after falling, immediately got back on her feet, made no claim of injury and left, saying it remains unclear whether Burfiend was injured in the fall.
The company wholly denies Burfiend's allegations of negligence against Walmart.
In its response to the complaint, Walmart asserts a dozen affirmative defenses and reserves the right to bring additional defenses or delete defenses following discovery, "when the allegations and issues raised by [Burfiend] have become more definite and certain."
A scheduling conference in the case is set for Wednesday.