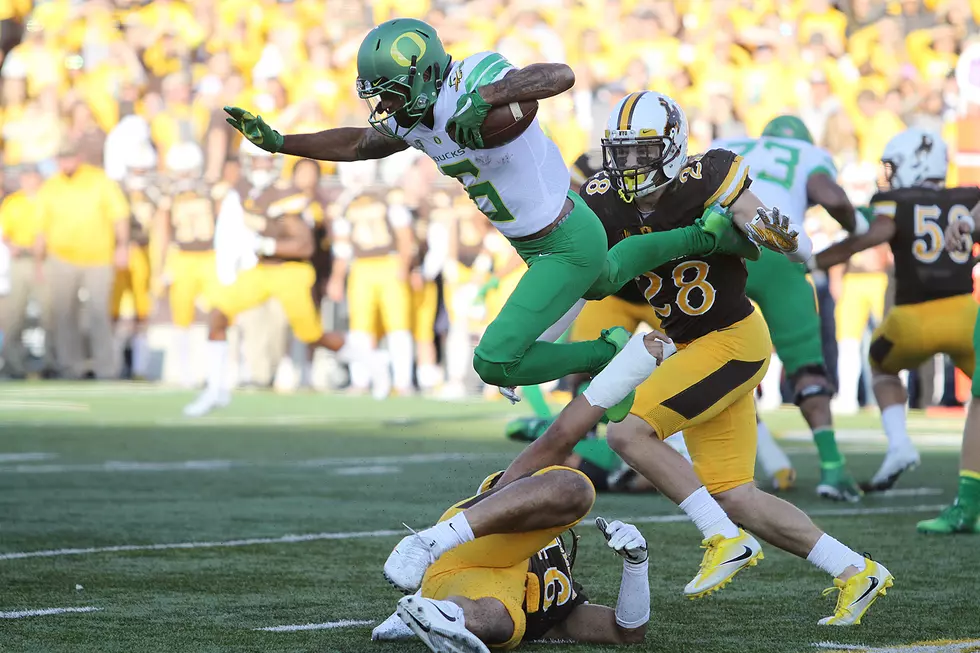 Wyoming Players React After Blowout Loss to Oregon [VIDEOS]
Seneca Riggins, Townsquare Media
Not a lot went right for the Wyoming Cowboys in their 49-13 loss to the Oregon Ducks Saturday night in Laramie.
UW's offense failed to get much going, while the defense didn't slow the Ducks down. Wyoming gained only 183 yards and surrendered 558 yards on 95 plays to Oregon. It was a game that the Pokes probably want to flush and move on to hopefully bigger and better results.
Sophomore receiver C.J. Johnson said they struggled to sustain drives and get much going.
Freshman running back Trey Woods saw more action with 11 carries for 42 yards. Woods talked about playing a team from his home state, some of the frustration with the lack of success offensively, hits on QB Josh Allen and moving forward.
Junior safety Andrew Wingard led the defense with 14 tackles, but even he admitted Oregon's pace was a factor, plus the amount of plays and they're inability to get off the field on third down.
Oregon converted 9-of-17 third downs in the game, which included 6-9 in the first half when the Ducks scored 42 points.
Sophomore linebacker Logan Wilson mentioned they didn't execute very well. He also said it's up to the captains, which he is one, to get things back in the right direction quickly.
The Cowboys return to action next Saturday hosting Hawai'i in the Mountain West Conference opener for both teams. Kick-off is at 8:15 p.m.