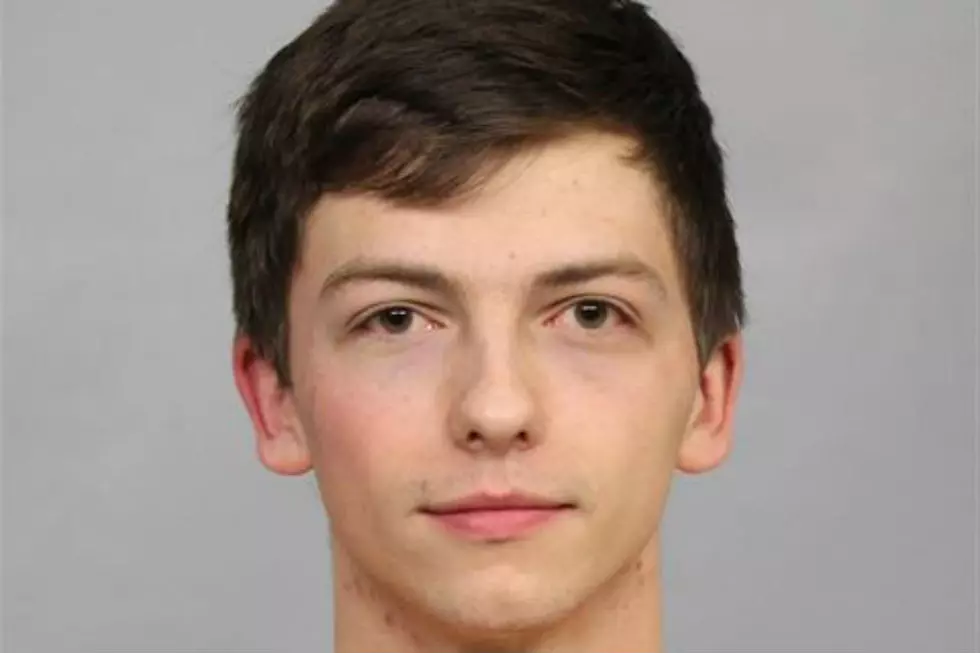 Wyoming Medical Center Shooter Says He Wants to Testify
Casper Police Department
A Casper man who fired a handgun several times inside of Wyoming Medical Center on March 4 did so because he thought he was dying, his attorney said Tuesday afternoon.
"He had an episode that made him think he was dead," attorney Joseph Cole said of his client, Mitchell D. Taylor. "He just wants to find out if he's alive and he does that by firing that gun."
Tuesday marked the second day in a three-day jury trial in which Taylor is charged with two counts of aggravated assault for the March shooting. Prosecutors called their last witness Tuesday afternoon. Jurors then left the room and Taylor said he wants to testify.
It's common for jurors to be absent while attorneys discuss procedures and evidence with the judge.
Taylor allegedly told police he took LSD prior to the shooting.
Natrona County District Court Judge Daniel Forgey had previously ruled that Taylor could not use being high on the psychedelic drug as a defense in his trial. He reminded Taylor of that after Taylor said he wanted to testify.
Cole, however, said that Taylor being high on acid was the reason he was at the hospital in the first place and jurors need to hear that in order for Taylor to get a fair trial.
Taylor, Cole said, was at the hospital because he thought he was suffering a drug overdose.
Tuesday morning, jurors saw video of Taylor firing a handgun multiple times in a Wyoming Medical Center hallway. Prior to firing his weapon, Taylor curls into a ball in front of two elevators. At certain points throughout the video, he gestures toward something off the camera and says something, though it's unclear what.
He appears to be in distress.
Why Taylor was speaking into the air should be put into context for jurors, Cole said.
But Assistant Natrona County District Attorney Kevin Taheri said Cole's argument was simply a backdoor into a not guilty by mental illness plea.
Judge Daniel Forgey agreed. Taylor will not be able to mention being under the influence of acid if he still chooses to testify.
Prior to the state resting its case a Wyoming Medical Center housekeeper testified Taylor pointed his weapon in her general direction.
Amy Deskins said she was pushing a laundry cart down the hallway when she encountered Taylor. Taylor simply asked, "What are you looking at?" when the housekeeper approached him.
Deskins said she saw Taylor was holding a gun in a way that, had he immediately shot it, it would have struck her legs.
"We definitely made eye contact," she said. "It was just not safe."
Deskins said she took off running and yelled for help before gunshots rang out.
Just before Tuesday's court proceedings concluded, Cole called his first two witnesses.
Casper Police Department Detective Adrian White testified that he interviewed Taylor three hours after the shooting and again that afternoon. Cole asked White if he told Taylor he fired a gun in the hospital, but White couldn't recall.
Detective Jesse Jones interviewed a  Wyoming Medical Center ER nurse who testified during Monday's proceedings. Charlotte Smith testified that she saw Taylor in a mirror just before he fired his gun. She also told jurors that she saw muzzle flashes as Taylor fired several rounds.
But in Jones's interview with Smith, she made no mention of seeing Taylor in the mirror or muzzle flashes. She even told Jones that she didn't see Taylor for the first time until he was in custody.
Taheri pointed out that witnesses often have trouble remembering traumatic events exactly as they happened in the immediate minutes and hours following.
Taylor has already pleaded guilty to felony property destruction in the case.
On Wednesday, Cole will call the final witnesses in the trial. After that, the jury will deliberate and issue a verdict.
If convicted of both counts, Taylor could face up to 20 years behind bars.