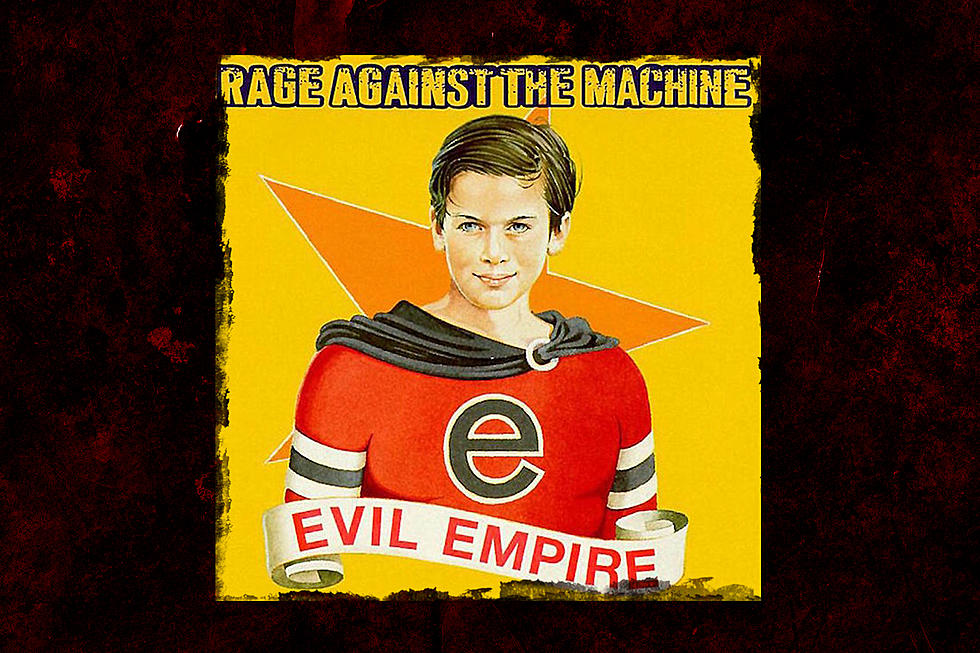 26 Years Ago: Rage Against the Machine Release 'Evil Empire'
Epic
Sophomore slump? No way! On April 16, 1996, Rage Against the Machine solidified their status as one of rock's most vital, influential and important acts of their generation with the release of their Evil Empire album.
There had been rumors of tensions within the band concerning the album, which arrived nearly four years after their self-titled debut disc. But when quizzed about the delay, guitarist Tom Morello told Kerrang, "Different band members have their different interests that they've been pursuing, but principally, the main reason for the delay between records was trying to find the right combination of our very diverse influences that would make a record that we were all happy with and that was great. That was a long process."
He would also tell MTV, "I'd say that this record, like the last one, is a real testament to the band's chemistry. It's just the way the four of us play together that makes it pretty seamless, and that's where we're lucky."
While the four band members may have had diverse musical influences, one thing they did agree upon was using music as a platform for a message. The Evil Empire album even came with its own reading list featuring such authors as James Baldwin, George Orwell, Abbie Hoffman, Toni Morrison, William Powell, Norman Mailer and others in the liner notes.
Rage Against the Machine, Live at Reading Festival (1996)
Frontman Zack de la Rocha told MTV, "I certainly didn't find any of those books at my University High School library. Many of those books may give people new insight into some of the fear and some of the pain they might be experiencing as a result of some of the very ugly policies the government is imposing upon us right now. Putting them back in touch with realizing that their direct participation in events right now can affect history."
The first single off the Brendan O'Brien-produced album was "Bulls on Parade," a blistering track featuring the scratching-like effects and wah-pedal mastery of guitarist Tom Morello, a wicked bass solo from Tim Commerford and de la Rocha's forceful belting of the lyrics "rally round tha family with a pocket full of shells."
The band debuted the track live at the Big Day Out festival in January 1996 and later courted a bit of controversy when performing the song on Saturday Night Live. During their appearance, the group ignored a request from the SNL producers not to play with a pair of inverted American flags on their speakers. As a result, they were not granted their second song of the night and some of the band members were even escorted from the building.
Rage Against the Machine, "Bulls on Parade" Music Video
"Bulls on Parade" would become a hit at modern rock radio and the Peter Christopherson-directed clip earned the band a Best Hard Rock Video nomination at the 1996 MTV Video Music Awards. In addition, "Bulls on Parade" would earn a Best Hard Rock Performance Grammy nomination.
The second single "People of the Sun" found de la Rocha pulling from his visit to Chipas in southern Mexico for inspiration, as he penned the track about the Zapatista revolution. The track would follow in the footsteps of "Bulls on Parade" by earning a Best Hard Rock Performance Grammy nomination.
The disc also featured "Down Rodeo," a lament on social inequality and class warfare with a killer low end and more guitar awesomeness from Morello. The final single from the disc was "Vietnow," which saw Zeppelin-esque guitar lick from Morello, nimble drumming from Brad Wilk and de la Rocha taking on right wing radio in his vocal attack.
Two other tracks of note from the album were "Tire Me," which actually won the band a Grammy for Best Metal Performance, and "Year of tha Boomerang," which preceded the album release by a year as it was also part of the Higher Learning soundtrack.
Rage Against the Machine, "Tire Me" — Live in 1996
After the album dropped, Rage only saw their star rise that much more, as the disc hit No. 1 on the Billboard 200 chart. And with that fame came the ability to not only spread their message but also bring attention to causes they saw fit.
They played the Tibetan Freedom Concert in San Francisco with proceeds going to the Milarepa Fund. They broadcast a special concert called Radio Free L.A. to stations around the country that included commentary from Leonard Peltier, Mumia Abu-Jamal, Noam Chomsky and others. And they played major tours with U2 and Wu-Tang Clan, reaching a wide array of fans in the process.
As Morello told MTV, "I think one of the important things about Rage is that … we are able to seduce some people in with the music who are then exposed to a different political message." de la Rocha added, "I refuse to believe [that the music community is] part of this desperate, Generation X, inactive community. I think that they can become a force." And with Evil Empire, Rage Against the Machine laid the blueprint for other politically minded acts to follow.
Where Does Tom Morello Rank Among the Top 66 Hard Rock + Metal Guitarists of All Time?