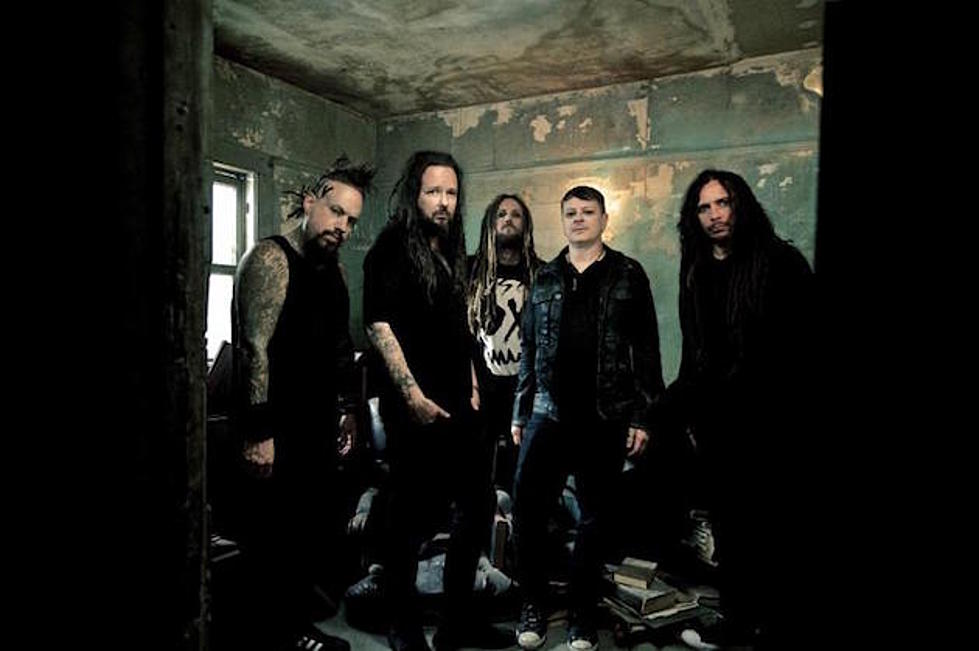 Korn Witness Wedding Proposal; Dave Grohl Visits Band's Studio
Photo: Dean Karr
There's a lot of love for Korn, and apparently there's a lot of love amongst Korn's fans. During a recent meet-and-greet, another couple who have bonded over the love for the group used the occasion to get engaged in front of the band.
As can be seen in the tweet below, Korn report that the happy couple decided to get married during the photo op with the band in Toronto. The band members were all smiles and shocked reactions as they mugged for the camera. And all went well for the guy, as the group confirmed that #SheSaidYes.
You may remember another couple decided to get engaged at one of the band's meet-and-greet's late last year. But when it comes to Korn, there are a lot of couples who have met over their love for the group.
And in other Korn news, it appears as though the group were visited by Foo Fighters leader Dave Grohl in the studio. The connection reportedly came through producer Nick Raskulinecz, who has a long history with Foo Fighters and who just produced Korn's The Serenity of Suffering album. Drummer Ray Luzier posted about the visit on his Instagram account, but it appears as though Grohl's visit was a friendly drop-by rather than him making a guest appearance as he has not been listed as being part of the new album.
Korn's Serenity of Suffering disc is due Oct. 21 and you can currently pre-order the effort in a variety of options at this location. The band have already unveiled the tracks "Rotting in Vain" and "Insane" off of the new album. You can find the band touring North America all the way up to and just beyond the album's release date. See all of their currently booked shows here.
See Where Jonathan Davis + Others Rank Among the Top 50 Hard Rock + Metal Frontmen of All Time