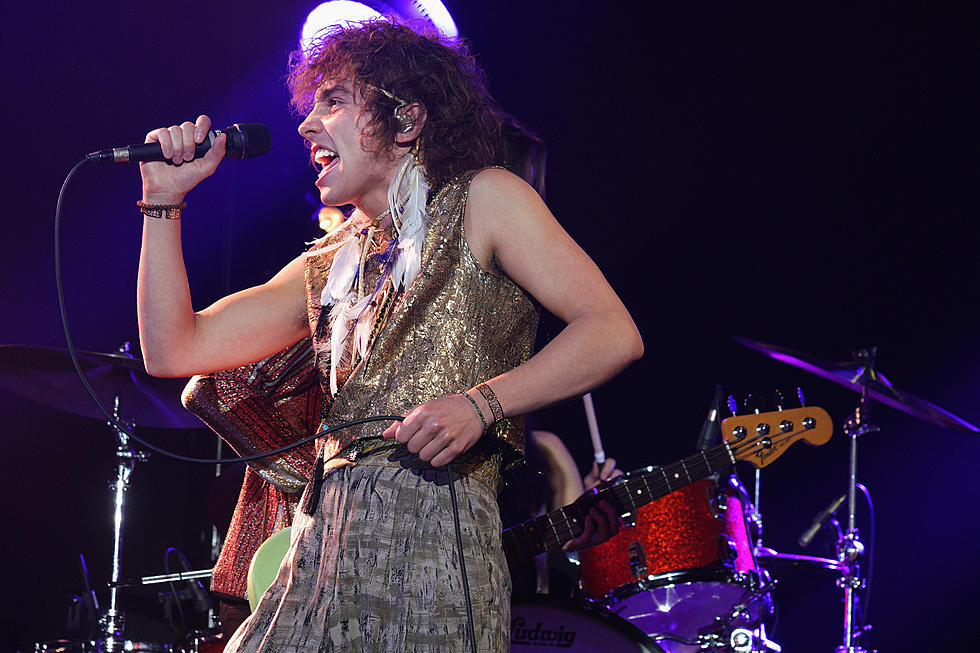 Greta Van Fleet's Josh Kiszka Issues Apology for Indigenous Cultural Appropriation
JC Olivera, Getty Images
Greta Van Fleet frontman Josh Kiszka has issued a public apology and made a charitable donation to the First Nations Development Institute after outcry from fans on Twitter about his cultural appropriation of Indigenous garb and a previously posted photo deemed insensitive.
Recently fans started up the #SpeakUpGVF hashtag, calling for the singer to address the issue online. As was shared by multiple Twitter users within the thread, Kiska posted on his Instagram in 2017 multiple photos of himself and friends donning copies of sacred Indigenous wear. The hashtag campaign sought to have Kiszka address the photos that remained posted despite being culturally appropriative and deemed offensive to various Native cultures. It was stated that attempts had been made to contact Kiszka to ask him to remove the photos and provide an apology.
Within the thread itself, some pointed out the musician and the band's support of Black Lives Matter in which they stated that they were striving "towards transformative, long term change," and asking fans to do the same while standing against racism.
Kiszka has now offered his first statement on the matter a week after the Twitter campaign started, sharing in a social media post the following:
To our indigenous fans,

I see you. I've taken time to listen and gather my thoughts. My appreciation for indigenous culture is bigger than myself. I recognize the harm that ignorance can have on marginalized communities, something I'd never want to perpetuate. Hate, disrespect and prejudice of any kind are not welcome in this community. As I've come into adulthood, I've been able to grow and learn. This growth has not stopped and will not stop here.

The Chippewa tribe has had a particularly profound impact on my life having been exposed to their ceremonies and customs during my early years growing up in Michigan. I have made a charitable donation [to] the First Nations Development Institute to help keep indigenous traditions like theirs alive and well. Should you want to support with me, please visit firstnations.org.

Peace, Love, Unity & Equality. Always. Josh.
After the statement, reactions were mixed on Twitter within the #SpeakUpGVF thread.
"What's genuinely shocking to me is the fans are genuinely giving this man the opportunity to come forward and apologize and delete posts. most fan bases would cancel in a fucking heartbeat??? like imagine having the opportunity to fix your wrongs and just…. not?????," offered one poster.
Another offered that while the community has asked for the statement, not the entire community should be able to decide if the apology was accepted. "Okay, now a reminder to my fellow white gvf fans that THIS IS NOT OUR APOLOGY TO ACCEPT. this is for the indigenous fans. if you are not indigenous, you have no right to declare whether or not he's "forgiven". #SpeakUpGVF
Others took exception to the approach of the campaign leading to Kiszka's comments, stating, "If you're still going to shows after dragging the band to hell and back, you are performative. Sorry I don't make the rules." Another added, "Changing the world with one harassing and threatening tweet at a time. So honorable. Shame on all of you for harassing that beautiful soul that you all claim to love so much. How many unsafe shows did you go to this past year while you knew he had worn feathers?"
Another poster was proud to see the campaign succeed in achieving its goal of getting a Kiszka response. "#SpeakUpGVF is proof that continuing to advocate for change & being present for your bipoc friends & mutuals when help is needed can bring even an ounce of peace & success. proud of those who didn't back down especially to indigenous fans who shared their lives with us thank you," they wrote.
See more of the discussion here.
The 35 Best Rock Songs of 2021
The rock songs that left a mark on 2021.