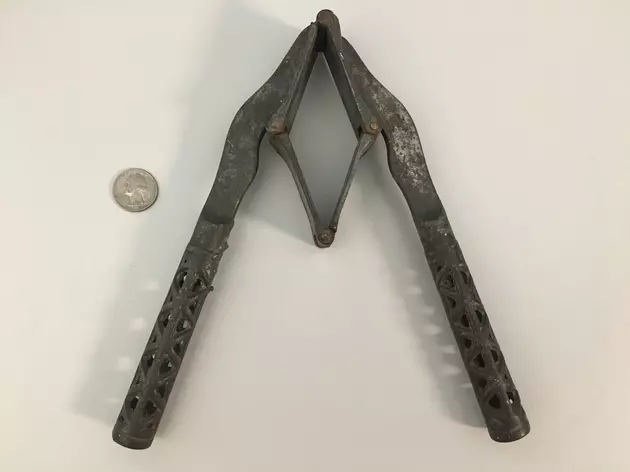 Did You Identify this Tool Correctly?
Rick Darcy, Townsquare Media
Cleaning out some boxes in my dad's garage last fall, I discovered this really cool tool which I had never seen before.  Naturally curious, I held on to the tool in hopes of discovering it's use and identity.
The tool is metal and about 10 inches long and 4 inches wide.  Has a center hinge area that opens up into a square and closes flat.
Is it some kind of welding tool?  A tool for working with tin?  We asked folks on the internet what it might be and here's what they had to say:
Actually a Nutcracker is close a close guess and yes, this items could have been used to perform that task as well.
But one of our Facebook friends pointed out the correct answer - it's a Little Giant Lemon Squeezer.  But ours is missing the back plate, which obviously has broken off once we saw this ad online.
The Little Giant Lemon Squeezer was patented in 1881 and was used squeeze a lemons on an industrial scale. It was sold in a pack of 12 for $8.20 per dozen.
Here are a few photos of the way the tool should look, with the attached splash plate.
Thanks to everyone who ventured a guess and who helped us ultimately identify this a a Lemon Squeezer!